The Last Planner System® (LPS) was first developed in the '90s by Glenn Ballard and Greg Howell. Many practitioners have implemented LPS using analog tools, as this enabled large groups to collaborate using walls, large templates, sticky notes and markers. This method and these tools facilitate group discussions, promise-making and coordination. And the Big Room environment is effective for many people to collaborate simultaneously.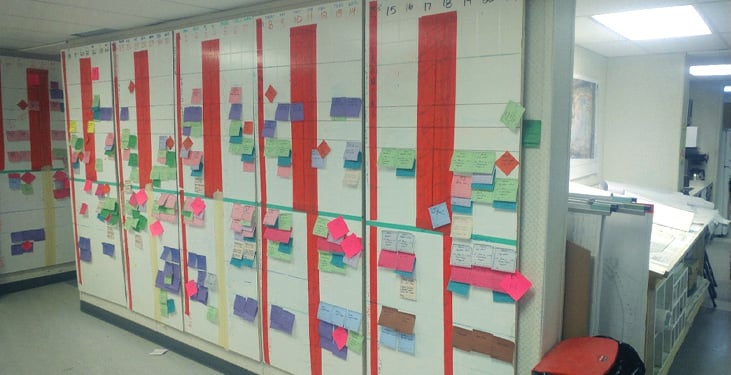 The analog process used for LPS has proven to be very effective and well understood. However, there are also some limitations, including
Everyone must be in the room to see the plan on a large wall. Engaging remote collaborators with photos of the analog wall, while possible, is not really effective. But in-person sessions are especially problematic during the current pandemic.

Percent Plan Complete (PPC)

and reasons for variance must be tabulated manually as changes are made to the plan
Data from analog activity cards is not captured. Information from analog content must be transposed into digital form to be effectively utilized.
Handwriting can be challenging for others to read
The tedious task of writing 10 identical cards for a single 10-day activity is not an effective use of time
For large projects, there are often space limitations. Each team/plan would typically have its own planner board. These boards often need to me moved around due to limited wall space.
Cards can fall off the wall, especially if the boards are moved around, which can affect the integrity of the plan
Technology providers address these challenges in many ways. However, there is risk in transforming a process like the Last Planner System. Automation, taken too far, can result in unintended consequences that can compromise the effectiveness of the process. To highlight one example, when a task runs late, automatically moving dependent tasks can result in a lack of awareness and can limit discussion between trades to find an effective solution. This can negatively impact project performance. Automation can be valuable, but can result in losing essential conversations.
A variety of technologies, when brought together thoughtfully, can significantly enhance analog processes while capturing the critical elements that have made the process so effective.
To do this effectively requires an understanding of the role that each of the following elements play.
People – Central to the design of LPS is that the people who are closest to and responsible for the work being done can bring this knowledge together in a collaborative environment to optimize the project schedule.
Process – LPS is a process that is clearly defined and well understood. When implemented in an analog form, the system works as intended. When implemented in a digital form, it is essential that the integrity of the process remains intact.
Technology – There are many considerations for how technology should be applied. Pull planning is typically conducted in a large group environment, often with remote attendees. Technologies to support this process should include displays, process-oriented software, a conferencing application (e.g., Microsoft® Teams or Zoom) and room audio and video. Consideration should be given to how technologies fit with other tools. The ability to move data between applications can add significant value, save time and eliminate waste.
Spaces – Consideration for the space where collaboration takes place is important as well. Placement of technology solutions in the space, whether analog or digital, can enhance team performance by supporting and optimizing the process. This is even more critical when considering the requirements to support remote participants.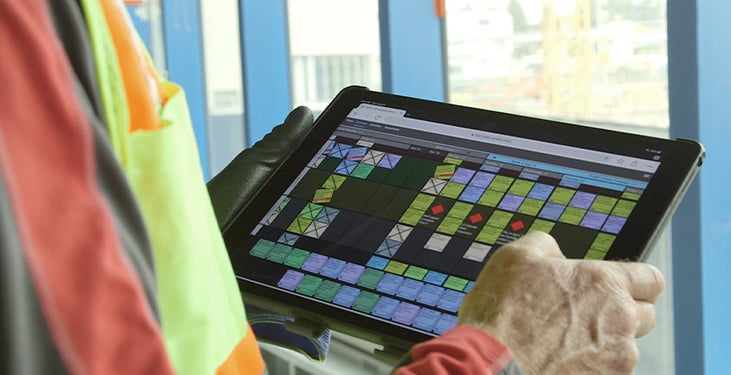 Digital transformation of LPS
With significant benefits that new technology solutions can provide, it may be time to consider the advantages of a digital platform to implement LPS. Advantages of these systems include
Save time, eliminate tedious time-wasting activities (handwriting multiple cards)

More effective use of real estate (elimination of multiple analog planning boards)

Familiarity for rapid deployment (same process)

Capture data and conduct data analysis as a by-product of day-to-day activity

Collaborate from anywhere (easily transition from colocated to distributed teams)
As with many things, the trick is to keep all of the best elements of the analog process as you move to the digital realm. We think there are exciting and tangible advantages to doing so.


---
Digital designed for the Last Planner System
Whether in a Big Room or working from home, Nialli™ Visual Planner takes LPS to a new level by leveraging what is already familiar and enhancing the process through innovative application of technology.
Posted on Jan 29, 2021 6:30:00 AM