Addition of Nialli™ Design Planner and Nialli Workspace completes toolset modeled after Lean Construction Institute's Last Planner System®
Calgary, Alberta --- October 12, 2022 --- Nialli Inc., a SaaS collaboration company, announces two additional applications, Nialli Design Planner and Nialli Workspace, to complement Nialli Visual Planner, its digital pull planning tool to keep construction projects on track. This suite of applications supports digital transformation of the end-to-end design and planning cycles of construction and engineering projects, modeled after the Lean Construction Institute's Last Planner System (LPS), which promotes principles such as trust, promise making and team understanding by enabling conversations focused on persistent visualization of information. Nialli Design Planner is used in the preconstruction phase of a project. Its weekly format and commitment tracking functionality helps teams know what everyone is doing and when a task needs to be completed. Drawings and documents, such as PDFs and PowerPoint®, are stored and viewed in Nialli Workspace where notes, inking and other collaboration tools are available for comments and contributions that typically take place in a Big Room environment. When the project is ready for construction, Nialli Workspace is used alongside Nialli Visual Planner for project materials such as safety training, meeting presentations and project reviews.
The full Nialli suite can be used by all project stakeholders on any device and from any location, providing the flexibility of having any combination of colocated and remote participants during planning sessions. The applications can also be used on large interactive surfaces, such as the Nureva® Wall, to replicate the paper-based big wall experience that is familiar to many design and planning teams. By making the process digital, the Nialli suite increases visibility into team progress and project status. Items can be updated on the spot, with all data being captured for in-depth analysis and for driving improvements. No transcription is required. This saves time and eliminates waste compared to paper-based processes. In addition to following the Last Planner System model, Nialli applications are designed to be simple and understandable to reduce barriers to adoption and regular use. Refer to the Additional product details section or visit the Nialli website to learn more about the features and functionality of these new applications.
"Since launching Nialli Visual Planner, we have been thrilled by customer reaction to the benefits of digitizing a portion of the Last Planner System in a way that is easy to understand and adopt," said Nancy Knowlton, Nialli's CEO. "With the introduction of Nialli Design Planner and Nialli Workspace, we now have a suite of applications that support the full design and planning cycle of construction and engineering projects, from initiation to closure."
Images
Download images of Nialli Design Planner and Nialli Workspace.
Nialli will debut and demonstrate the suite of applications at the LCI Congress in New Orleans, LA, October 18–21, 2022. Press and analysts can send an email to sharilynnsare@nialli.com to schedule a briefing.
Additional product details – Nialli Design Planner
Nialli Design Planner is a design and preconstruction visual planning tool that helps keep teams on time and on budget.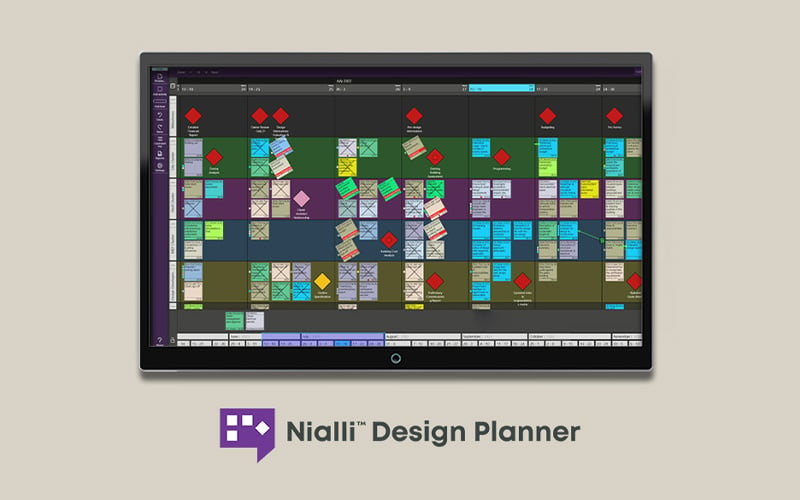 Plans
Projects can have many different plans, depending on their size and complexity.
In each plan, users can set up the calendar, create lanes to represent working areas and identify teams or disciplines by color. Dependencies or predecessors can be set between activities across lanes. If things change, it's easy to add, edit or rearrange activities.
Milestones can be added manually or imported from an Excel® file. Sub milestones or decision points can be identified by color.
Adding groups and users
Once a plan has been created, groups (disciplines) and team members can be added individually or imported from an Excel file.
Groups can be assigned a color for quick identification
User permission levels can be set to view only, view my group, edit my group, edit all or as a plan administrator
Parking lot
The parking lot is a placeholder for activities not yet placed in the calendar, speeding up the planning process by ensuring everyone can prepare for the planning meeting in advance. Details, such as expected completion date, person responsible and requirements for task completion, can be added. Digital tags can then be pulled from the parking lot to the committed date and lane.
Dependencies
Stakeholders can easily see dependencies or predecessors and not be caught off guard by mounting delays. Identifying a predecessor can be generated by simply dragging a connector to a previous activity. Dependencies between independent tasks and across lanes can also be set. When a task becomes at risk, red visual cues prompt attention.
Constraints
Constraints to getting work done can be added to individual activities or to the constraint log. Constraints are tracked to ensure that they are addressed. Visual alerts identify if a constraint is causing a delay.
Generating reports
Reports provide data on the progress of a project, helping teams see trends and drive continuous improvement.
Activity tags are given a status as done or not done, and why, which generates data to facilitate team improvement
Real-time reports are available, including the percent plan complete (PPC) and reasons for variance.
Additional product details – Nialli Workspace
Nialli Workspace is a visual conversation solution that helps teams collaborate and contribute on construction and engineering projects. Users can add and store artifacts, project-related documents, export data for future analysis, mark up drawings, create templates and initiate conversations by enabling rapid contribution by team members. Nialli Workspace is available in Windows® and browser versions. It can be deployed in local, on premise and cloud environments and leverages industry-standard authentication and encryption.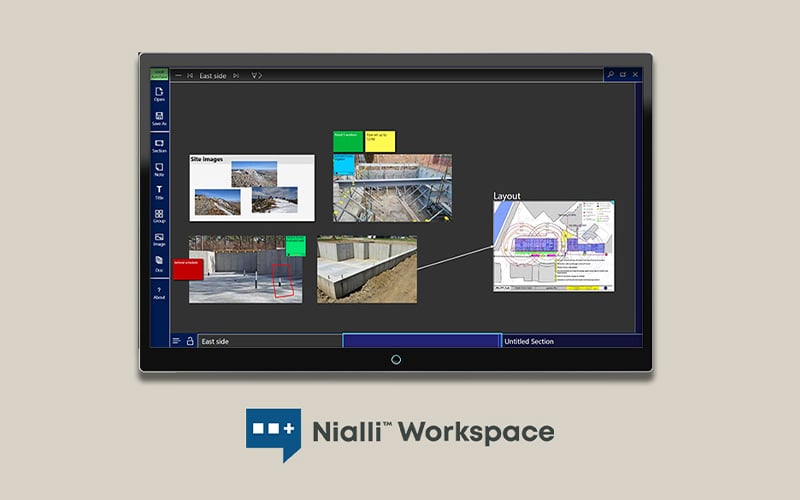 Sections
Workflow-based areas of a workspace have workable sections.
Sections can be created with custom colors or backgrounds for a specific purpose. This allows for rapid navigation between content parts of the workspace.
Documents such as a safety sheet or templates can also be imported and used as a background
Notes
A digital version of sticky notes is editable.
Note color and size, text size and adding a hyperlink are editable
Groups
Groups can be created, providing the ability to group notes and images for organization and manipulation.
Groups can be set to have specific-colored notes, auto expansion and snap to grid for easy organization of notes
Titles
Enter comments or a headline in the workspace.
Titles can be different sizes and colors
Connectors
Create dependency or logic ties between objects.
Connectors can have different styles, color and direction to assist in visualizing relationships between items
Drawing and writing
Two types of ink are available.
There is an acetate layer in each section for quick mark ups or thoughts that can be erased or left as a record of a conversation. The ink does not stick to the objects.
When viewing a PDF, inking controls can be used to mark up a document. The ink will be saved in the document when exported as a new PDF.
Import
Insert images and documents including PDF and PowerPoint materials.
Images can be moved and scaled as needed
PDFs can be marked up with permanent ink
Sharing
Invite guests in view only or edit mode.
See who is currently working in a workspace
Chat with members and guests via Teams integration
QuickShare
Enables contribution to a workspace by both members and guests.
A QR code can be scanned to enable anonymous contribution of camera pictures, images or notes to a group that has been set up to receive content
A link can also be used to contribute from a browser on a PC
Deployment
Leverages industry-standard authentication and encryption.
Deployed in the Microsoft® Azure AD environment
Integrates with SSO schemes
Nureva Wall
The Nureva Wall gives teams the large horizontal space they need to visualize their project designs and plans, spark simultaneous conversations and updates.
The Nureva Wall is 7.5' (2.29 m) wide and combines a high-definition ultra-short-throw projector with a projected capacitive multitouch surface to create an expansive interactive working space to display entire phases of work and the connections and relationships to other work
Typically, multiple Nureva Wall systems are installed side by side to allow for a more expansive project view. The Nureva Wall system is not required to be used with the Nialli suite, but it enhances the immersive collaborative planning experience.
Gestures
Gestures have been designed to enhance the system for use on large interactive surfaces and displays, to both speed user adoption and remove waste associated with the traditional analog methods of the Last Planner System. For example, a simple two-finger twist of a card will change the status of a card to 'done', shown with a line through the card. Multiple groups can status cards simultaneously.
Pricing and availability
Multiple pricing plans are available for Nialli applications. Contact Nialli sales at sales@nialli.com to learn more.
About Nialli
Nialli Inc. is a wholly owned subsidiary of Nureva Inc. focused on enabling the digital transformation of processes used by collaborative teams. The company's objective is to make it easy for organizations to digitally transform their collaborative processes and achieve the associated gains in productivity and performance. Nialli is driven by a design process that is grounded in deep understanding of its customers and their ways of working, with the goal of creating applications that are completely intuitive and easy to adopt. Most recently, Nialli has been conducting research with a selection of global construction companies with the aim of moving what has been a completely paper-based process into the digital realm. For more information, visit Nialli's website.
###
© 2022 Nialli Inc. All rights reserved. Nialli and the Nialli logo are trademarks of Nialli Inc. in the United States, Canada and other countries. Nureva Wall is a registered trademark of Nureva Inc. in the United States, Canada and other countries. All third-party product and company names are for identification purposes only and may be trademarks of their respective owners.
Posted on Oct 12, 2022 1:00:00 AM